Our 2020 Great Taste Winners
YOU DON'T NEED TO TAKE OUR WORD FOR IT – READ WHAT THE GREAT TASTE JUDGES SAY
Cambrook Cocktail Mix № 6 ⭐⭐⭐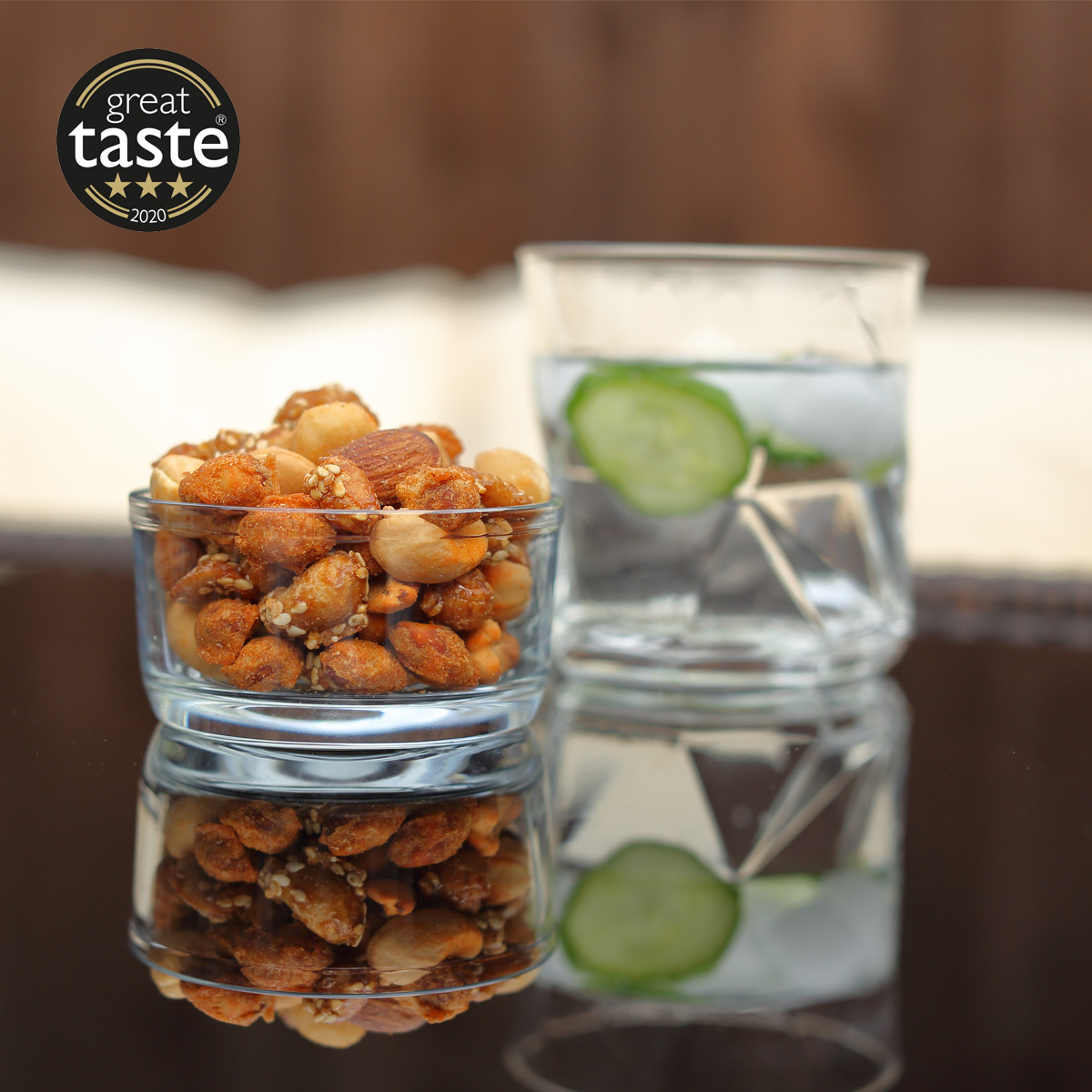 Created for Claridge's our Cocktail Mix № 6 is a unique and fantastic mix of flavours, combining salted cashews and macadamias, chilli battered peanuts, smoke seasoned almonds and caramelised sesame peanuts.
'Each element of this mix is delicious but together they are almost unputdownable.'
'Great textures and wonderful flavours, this is a clever, well crafted combination. The seasoning spot on, just enough but crucially, not too much. Bravo.'
'Who would know that quite so much work and attention could go into a simple snack….. actually this is far from a simple snack yet a classic example of knowing when enough is enough.'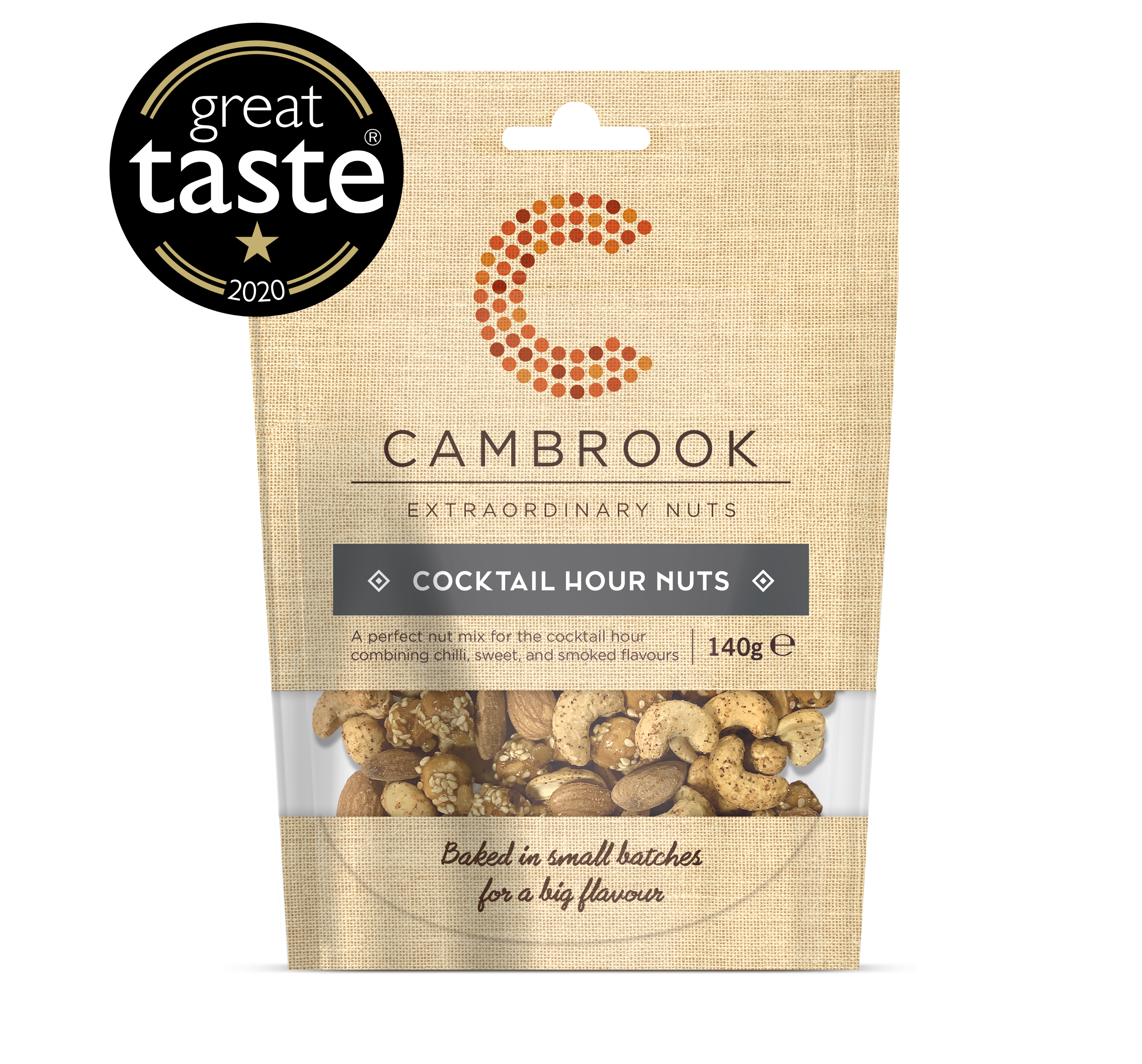 Another wonderful mix for the cocktail hour with its chilli, subtly sweet and smoked flavours.
'Beautifully prepped nuts that all have a lovely fresh crunch. What makes these particularly special, however is the attention to detail: every nut has its own special treatment and so overall you get lots of different flavours and a few different textures, adding lots of interest.'
 'The caramelised sesame hazelnuts are the stand out here, deeply moreish with that irresistible sweet and salty combination.'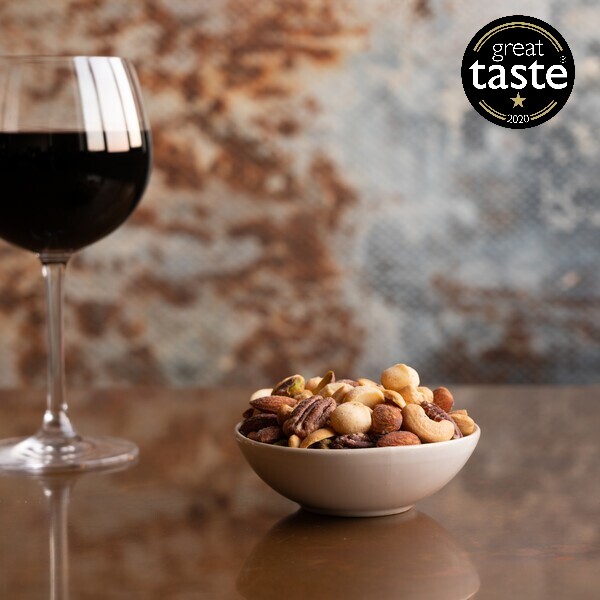 A traditional baked & salted mix of cashews, almonds, macadamias, pistachios and pecans as served at Dukes Bar, renowned for their legendary dry martinis.
'A wonderful array of different nuts with a good nutty aroma. The quality of the ingredients shine through and they are expertly prepared with judicious salting to give a great tasting snack that is very moreish and would complement any G and T.'
Cambrook Baked Cashews & Peanuts with Chilli & Lime ⭐
Baked cashews and peanuts seasoned with our unique recipe of sweet chilli and a dash of lime.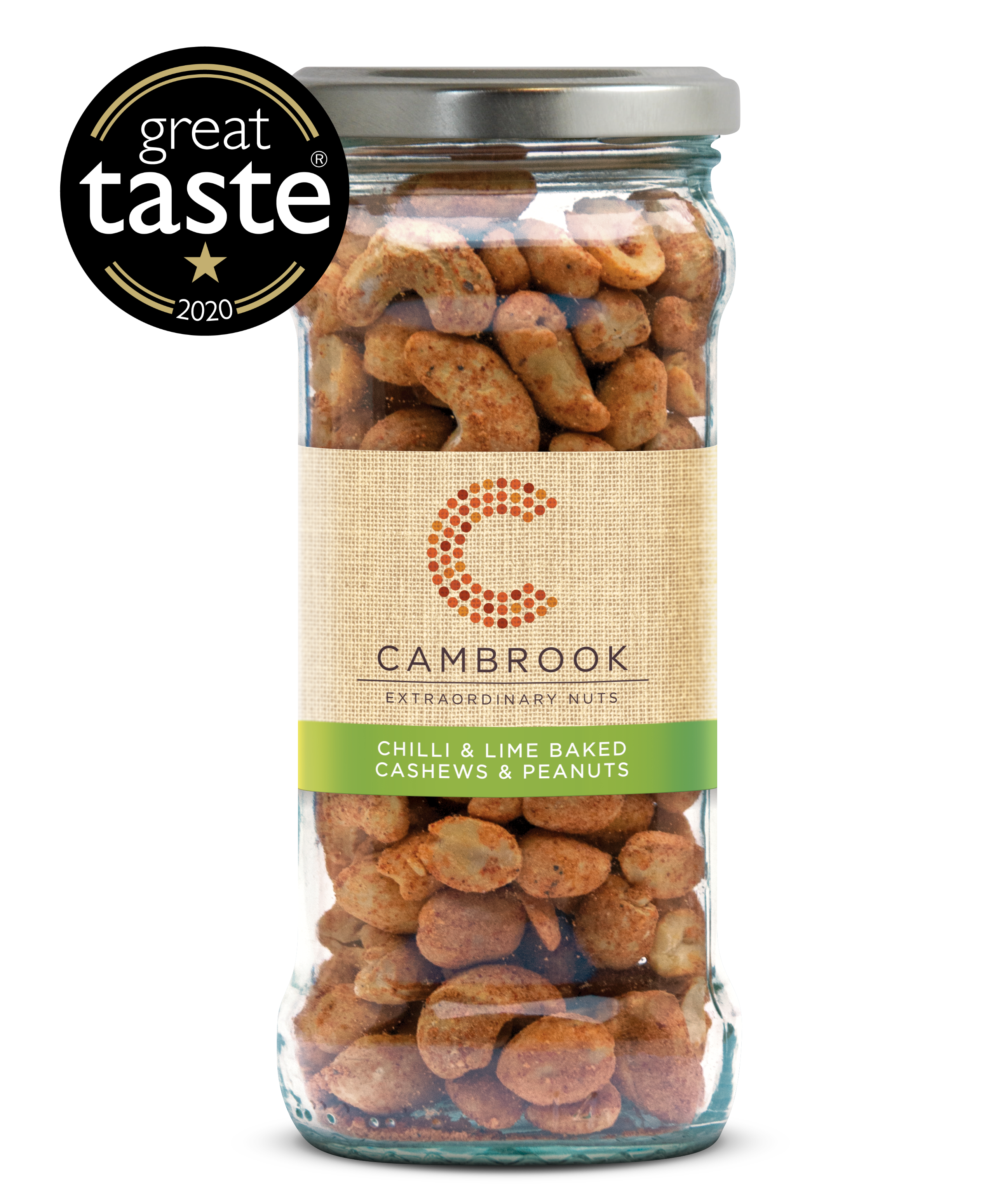 'A subtle mix of lime and chilli with a hint of sweetness that balances beautifully with the salted nuts. A great accompaniment to any drink.'
'A delicious blend of citric lime and sweet chili seasoning with added salt makes these cashews and peanuts irresistible'
Cambrook Hickory Smoke Seasoned Almonds & Cashews⭐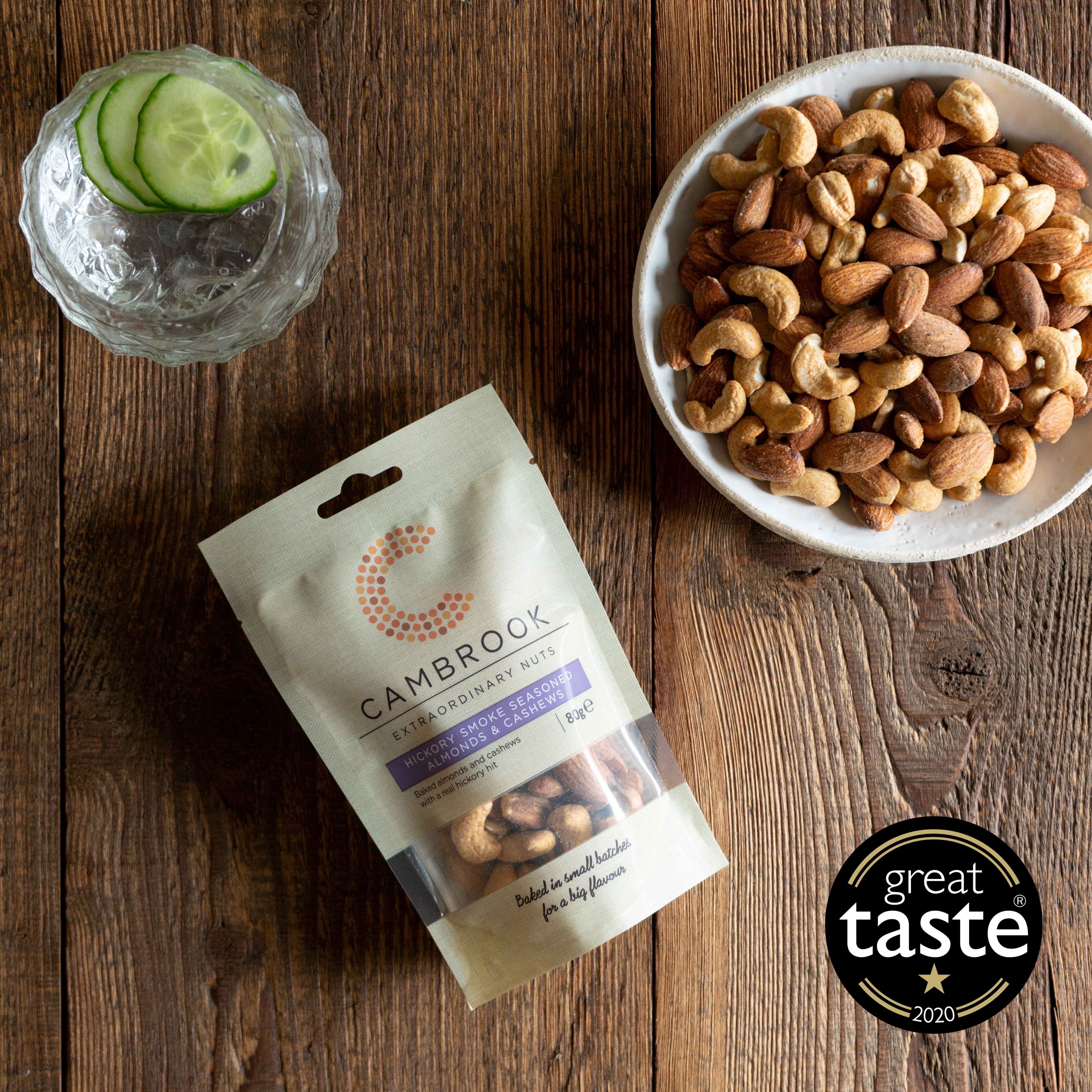 Baked almonds and cashews tumbled in a seasoning derived from the smoking of hickory wood.
'Lovely sized nuts, plump, with fabulous crunch. The cashew is creamy and the almonds snap well between our teeth. The nuts have been well chosen for quality.'
 'The salt, sugar and seasoning are all in balance with each other making these nuts very moreish and quite delicious.'
'Crunchy with a perfect level of salt, the ingredients are good quality and the smoke flavour is pitched at the right level for most judges'
Cambrook Sweet Chilli Peanuts and Cashews ⭐
Baked peanuts and cashews with a spice and sweetness to relish.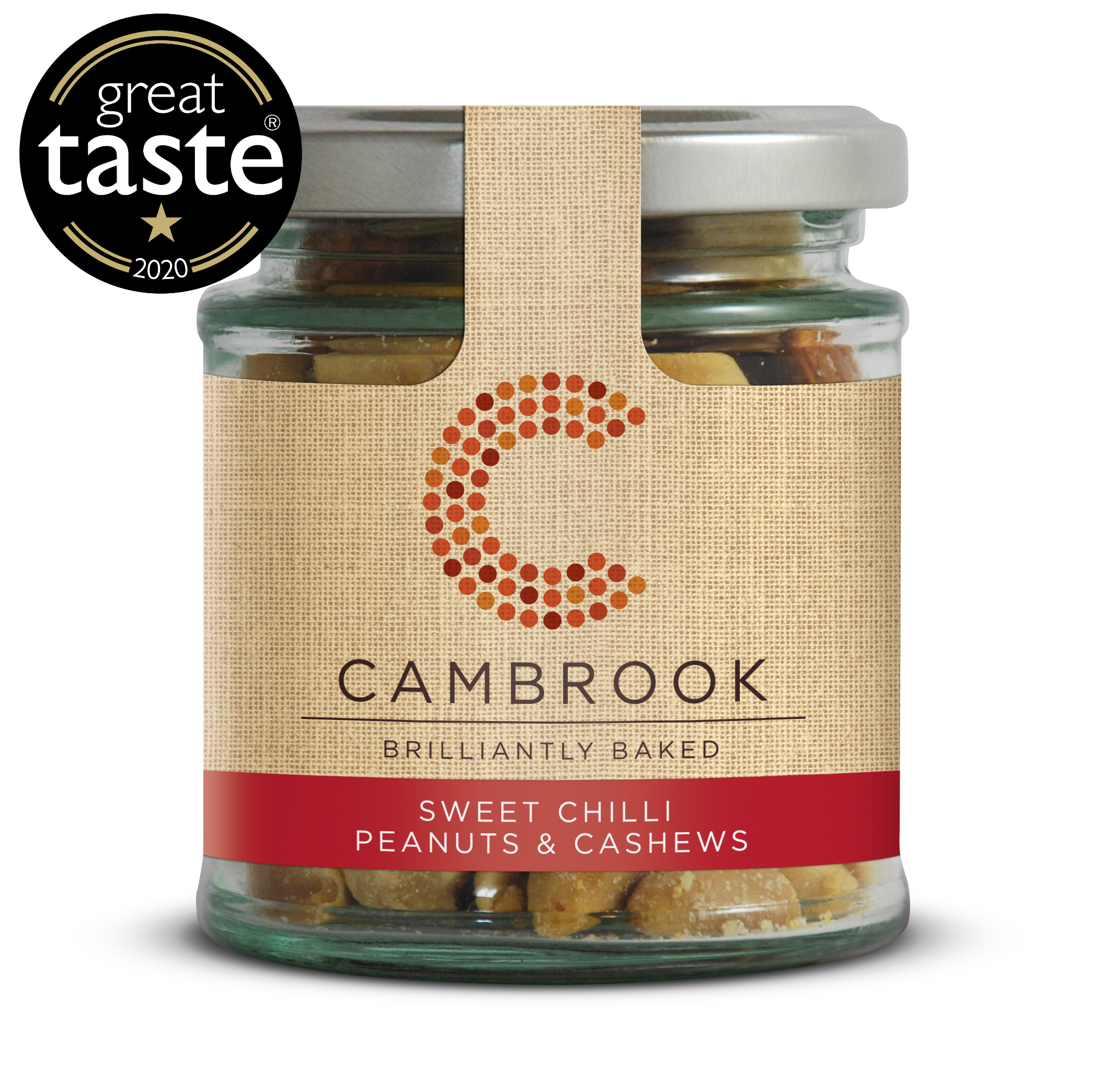 'Bright and fresh looking nuts that have a clean, crisp crunch have been baked to a pleasing buttery gold with a vibrant even coating of peppery scarlet seasoning.'
 'Fresh and toasty, they exhibit just baked notes and are buttery and creamy on the palate with a lively fruity, mildly spicy warmth that builds in the mouth.'
 'Spirited and lively, simple, and delicious. A great snack with a G&T at the end of the day.'
Cambrook Truffle and Pecorino Mixed Nuts ⭐
A mix of cashews, almonds, macadamias, pecans and pistachios, baked and seasoned with a distinctive aromatic black truffle and a sprinkling of tangy pecorino cheese.
'What a stunning aroma of roasted mixed nuts, truffle and a hint of pecorino cheese.'
 'Really good quality, high grade nuts have been used in this mix, with each of them retaining their texture, having a lovely crunch.'
 'The flavours are there but they are subtle, allowing the flavours of the nuts themselves to sing.'