New Gift Range from Cambrook Nuts
Camboook Nuts are delighted to be launching their very first set of Cambrook Gifts!
On 20th of May they will be launching two gift sets, both containing Great Taste Award winning jars of nuts. They are the perfect present whether it be for Christmas, Father's Day, a birthday or any other occasion.
The double gift set (RSP £14.00) includes the delicious pairing of award winning favourites:
Baked Truffle Nuts, 175g: Almonds, cashews, macadamias, pecans, baked and seasoned with a distinctive aromatic back truffle and sea salt
Hickory Smoke Seasoned Almonds and Cashews, 180g: Baked almonds and cashews tumbled in a seasoning derived from the smoking of hickory wood
The triple gift set (RSP £18.50) features their two Cocktail Nut Mixes along with the Chilli & Lime Nuts, all Great Taste Winners: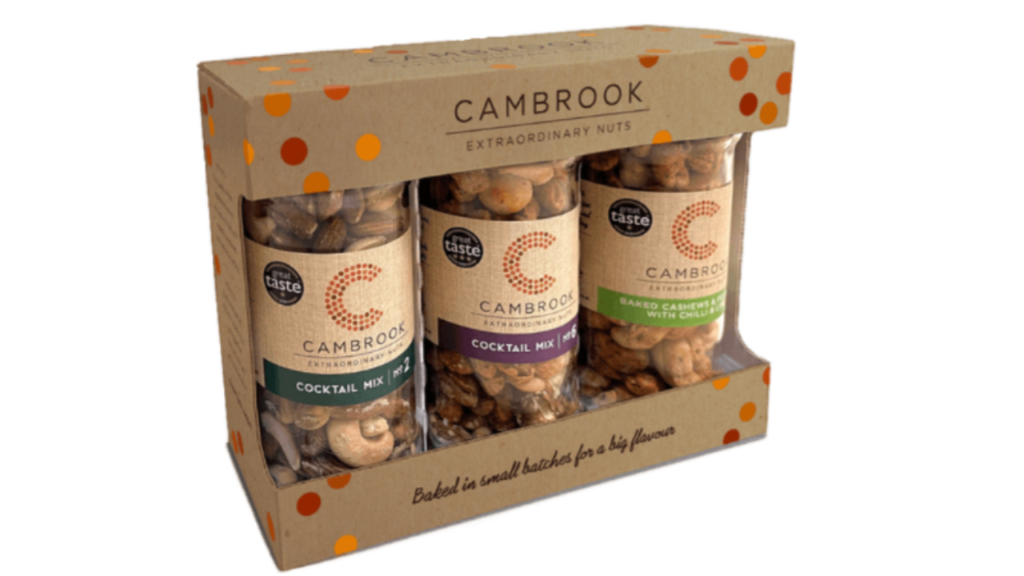 Baked Cashews and Peanuts with Chilli and Lime, 170g:Seasoned with our unique recipe of chilli and lime for a spice and freshness to brighten your day
Cocktail Mix No 6, 170g: A unique and fantastic mix of flavours, combining salted cashews and macadamias, chilli battered peanuts, smoked almonds and caramelised sesame peanuts. Served at Claridge's!
Cocktail Mix No 2, 175g: An expertly baked & salted traditional mix of nuts (cashews, almonds, macadamias, pistachios, pecans) as served at some of London's best known cocktail bars
These new products will be a great addition to their already comprehensive retail range including the new 140g sharing bags, 80g bags and the 'grab & go' 45g range.
'We are delighted to be bringing our gift set vision to life with the launch of our first two gift sets this year. They will be a welcome addition to our successful and growing retail range. We hope customers will enjoy giving them as much as receiving them!' Deborah Bradfield – Sales and Marketing Manager
– ENDS –
Media Enquiries: Deborah Bradfield deborahbradfield@cambrookfoods.co.uk
07974443094
Photos: Available please email info@cambrookfoods.co.uk
Product Facts:
Double Gift Set containing 2 x Selection of Nuts (Baked Truffle Nuts & Baked and Seasoned Almond and Cashews)
Triple Gift Set – 3 x Selection of Nuts (Cocktail Mix No 2 and Cocktail Mix No 6 along with Baked Cashews and Peanuts with Chilli and Lime)
Samples: Please email deborahbradfield@cambrookfoods.co.uk
Stockists: Available at www.cambrookfoods.co.uk and all good distributors (Christmas brochures)
About Us
We bake (not fry) nuts, either for salting or for seasoning with our original recipes of spices, herbs and seasonings. We are also specialists in caramelising nuts which we do in traditional Italian copper pans. We produce everything in our BRC accredited (AA Grade) factory in Andover, Hampshire. For more information please visit www.cambrookfoods.co.uk